Bananas Foster Baked Oatmeal #BrunchWeek
Bananas and oatmeal are blended together and baked in the oven to create this custardy brunch treat. Bananas Foster Baked Oatmeal is a wonderful make ahead wholesome dish that's almost like eating dessert for breakfast.
It's day 2 of #brunchweek and, after yesterday, I can't even imagine what everyone is going to serve up. So much deliciousness in one day, I'm VERY excited to create my Mother's Day brunch menu. The only problem will be deciding what to choose! I know for a fact that I will be serving this Bananas Foster Baked Oatmeal, it's to die for.
Leave it to me to trash up my oatmeal. Bob's Red Mill was kind enough to send me a giant bag of rolled oats….perfect for starting your day right with a fiber filled breakfast. I eat oatmeal almost daily, not trashed up, so it's fine if I only do it once in a while. Right? Like for brunch week…and Mother's Day…and Sunday. 🙂 Well, you only live once…and since the dish is basically oatmeal and bananas I'll just tell myself that it totally overrides the calories in the sugar and butter. Or just eat a little bit. With a tiny spoon, on a mini plate. That should do it.
I topped the Bananas Foster Baked Oatmeal with sliced bananas and an insanely easy caramel sauce using some light brown sugar from Dixie Crystals (also a #brunchweek sponsor!).  The bananas became caramelized with slightly crispy edges and the sauce coated the oatmeal with a gooey blanket of ridiculousness.  It was awesome.
Bananas Foster Baked Oatmeal is completely dreamy. It's what oatmeal should be….loaded with caramelized bananas, drenched in a warm rum caramel sauce and creamy like a smooth custard. Drooling yet? If not, why not top it with a scoop of vanilla ice cream and call it dessert. Nobody said brunch has to remain just in the morning or early afternoon….why not stretch it out all day long.  And make it a buffet…there are plenty of brunch week recipes to choose from or you could serve it with some Italian Baked Eggs to balance everything out with a little protein.
Get the Recipe: Bananas Foster Baked Oatmeal #BrunchWeek
brunch time is the best time to have this banana foster bakes oatmeal!
Ingredients
3 cups old fashioned rolled oats
1 cup mashed banana
3/4 cup packed light brown sugar
2 teaspoons baking powder
1 teaspoon kosher salt
1 teaspoon ground cinnamon
1 teaspoon vanilla bean paste or vanilla extract
3 tablespoons rum, divided (optional)
2 large eggs
1 1/2 cup 2% milk
1/2 cup unsalted butter, melted
2 bananas, sliced into 1/2 inch pieces
3 tablespoons salted butter, softened
1/2 cup light brown sugar
Instructions
Preheat oven to 350 degrees.

In a large bowl, stir to combine the oats, banana, brown sugar, baking powder, salt, and cinnamon. Set aside.

In a medium bowl, whisk together the vanilla, rum, eggs, milk and melted butter. Stir into the dry ingredients until well blended.

In a small saucepan, combine the butter, brown sugar and rum. Bring the mixture to a boil and stir until smooth. Remove from heat and set aside.

Pour the oatmeal mixture into a 9-inch square baking dish coated with cooking spray and arrange the banana slices on top. Pour the caramel sauce over the bananas. Bake for 35-40 minutes or until the oatmeal is set and the bananas look caramelized. (If your oatmeal is done but the bananas don't look caramelize, broil for 1-2 minutes under the broiler.)

Serve immediately.

(You can store leftovers in an airtight container in the refrigerator for up to 3 days.)
Serving: 0g, Calories: 490kcal, Carbohydrates: 70g, Protein: 7g, Fat: 19g, Saturated Fat: 11g, Cholesterol: 86mg, Sodium: 379mg, Potassium: 540mg, Fiber: 4g, Sugar: 43g, Vitamin A: 625IU, Vitamin C: 5mg, Calcium: 157mg, Iron: 2mg
Take a look at what the #BrunchWeek Bloggers are cooking up today!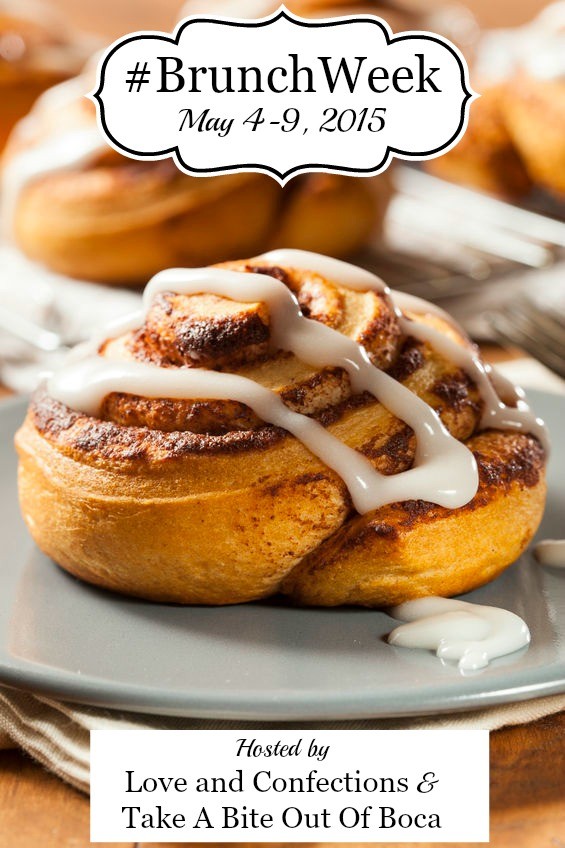 BrunchWeek Beverages:
Oat-Chata from Culinary Adventures with Camilla.
BrunchWeek Egg Dishes:
Build Your Own Benedicts from A Day in the Life on the Farm.
Ham, Asparagus and Goat Cheese Egg Muffin Cups from Cupcakes & Kale Chips.
BrunchWeek Breads, Grains and Pastries:
Donut Holes with a Trio of Dipping Sauces from The Redhead Baker.
Trail Mix Granola from Making Miracles.
Bananas Foster Baked Oatmeal from The Suburban Soapbox.
BrunchWeek Main Dishes:
Vegetarian Breakfast Enchiladas from The Spiffy Cookie.
BrunchWeek Fruits, Vegetables and Sides:
Caramelized Onion and Sweet Potato Hash from Take A Bite Out Of Boca.
Asparagus and Heirloom Carrots Salad from Jane's Adventures in Dinner.
Roasted Grape & Bleu Cheese Bruschetta from Bread Booze Bacon.
Papas con Chorizo from Sew You Think You Can Cook.
BrunchWeek Desserts:
Whiskey Walnut Tart from Love and Confections.